Special interests within the veterinary field: implementing "fear free" techniques and reducing the stress of animals when coming to our hospital. 
Why did you decide to be an RVT? With a background in science, I had always wanted to work in the medical field. I could not ignore my absolute passion for animals and therefore I combined the two! 
Favourite part of being an RVT: when animals are happy and excited to come to the hospital. Also reuniting animals with their owners at the end of the day is always very rewarding. 
Least favourite? Battle scars we might endure with a not so co-operative pet.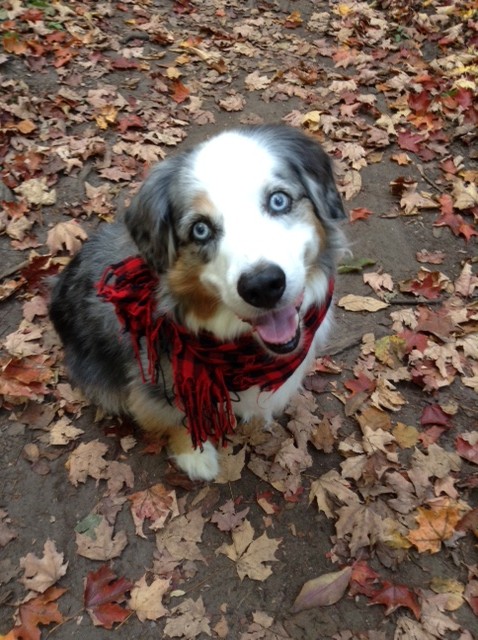 Most memorable case? My own dog! When he ate toxic mushrooms and started with tremors and seizures! 
Furry family members of your own: Cody! He is a 10 year old Australian shepherd. 
What is your favourite colour? Blue!
Favourite Holiday? Halloween (because it is during my favourite season – fall) 
Favourite food? Donuts
Favourite drink? Coffee
What do you do for fun outside of work? I love to hike, play soccer and socialize with friends. 
What do Ceri's co-workers say about her?
"Ceri has a heart of gold, she always puts the patients comfort level first. This can range from making sure adequate pain meds are given on time, to curling up in a cage with an anxious pet, or one that just needs some love. She truly treats every pet like her own."
"Ceri's greatest attribute is the enthusiasm that she brings to her job.  She is always happy at work and she loves dealing with our patients.  She is always working to improve their lives with help in diet choices, socialization, and routine health care suggestions."
"Ceri is a pleasure to work with, and her deep love for the animals shows through in everything she does.   Our patients always feel comfortable with Ceri. "
"Ceri wears her heart on her sleeve and her empathy towards others, pets and owners, is beautiful. Ceri is always determined to find the answers to everyone's questions no matter how big or small, she is dedicated to helping others. Ceri is also known to curl up and cuddle our most nervous patients in their kennels. "
"Ceri brings an energy and brightness to the clinic. She has the ability to make her clients and their pets feel at ease. Ceri also has such compassion for her patients. She always puts forth extra time and effort to ensure the wellbeing and comfort of all our patients."
"Ceri is the biggest sweetheart and loves all the animals as if they were her own. She is such a hard worker and I don't know where I would be without all of their help."